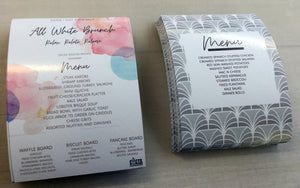 Menus & Thank You Cards
Menu and Thank You Cards for place settings.
Printed on 17pt. Poster Paper.
File Requirements: We do not offer design or set-up. You must send your file ready to print in the correct size and orientation you are ordering. Resolution should be 150dpi or higher. File formats accepted jpg, pdf, png.
Please visit our design and set-up help center. Please do not send screenshots from your cellphone as the file for your order. Low resolution files and screenshots will be rejected.
W x H Dimensions
W = Width (Size Left to Right)      x = by      H = Height (Tall-Size Top to Bottom)