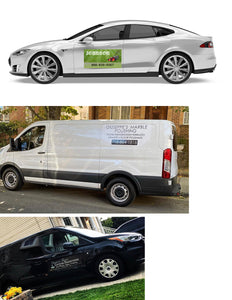 Vehicle Magnets
Vehicle Magnets can be attached to flat, smooth magnetic vehicle surfaces for advertising and growing your business on-the-go. Affordable, and durable custom vehicle magnets are the ideal choice for removable signage on personal or business vehicles.
Car magnets are 100% customizable and paint-safe so you can design your own magnet, stick them on a car or truck, peel them off, and reuse them again and again.  No minimum required.
Submit your order by 10am Monday thru Friday for End of day pick up.
*Multiple part orders may require additional production time.
*Same day printing is not a guarantee & depends on the workflow of that day. Your order may be ready the following business day.
File Requirements: We do not offer design or set-up. You must send your file ready to print in the correct size and orientation you are ordering. Resolution should be 150dpi or higher. File formats accepted jpg, pdf, png.
Please visit our design and set-up help center. Please do not send screenshots from your cellphone as the file for your order. Low resolution files and screenshots will be rejected.
PICK UP ONLY!!